R.I.P. GIR!!! Legal Action! aka Squishy Fishy

February 2006 - August 2007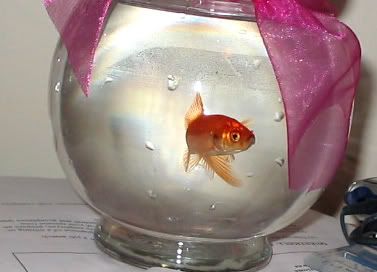 We had fun didn't we, Hilter Fish? He passed away peacefully in his sleep August 3rd, 2007 after a short time on this earth where he used up about $500 of my hard-earned dollars. But it's a small price to pay for a constant companion (He can't run away!) and to save him from a torturous death at the hands of a drunken Huntington boy at formal. We had some good times, and he overcame some obstacles that others responded to with "Just flush him!". He got over ICK! He got over that tumour. He got through last hot, hot summer. We did it! You did it.
He was not well for the past 3 days but he is now resting comfortably in the big ocean in the sky.

Bon Voyage, Squishy!

tunes: patty griffin - heavenly day